TRINPsite, the name of this site, is based on the five TRINP values: truth, relevance, inclusivity, neutrality and personhood. For each of these five values there is a separate 'value document' in the Valu folder on the highest level. Each Valu document starts with a picture of 380 pixels by 380 pixels representing the value of the document concerned. Hence, there are five of these pictures with exactly the same position in the hierarchy of files: Truth, Relevance, Inclusivity, Neutrality and Personhood. There is not any difference in access to the Valu documents from the Index Page, from the List of Files or from the Main Document.
One would expect that a search engine robot which finds Truth will also find the other TRINP images and vice versa. And one would expect to find all five images back after having checked a shorter or a longer list of pictures. Should it take too long, an original TRINPsite picture at its original address can always be traced by adding the term trinp to one of the TRINP value terms. Therefore, it came as a surprise that, in the week of the first publication of this document (63.09), no known search engine seemed to have all five TRINP images in its public database: Yahoo, for instance, was unable to cope with Personhood at www.trinp.org/Game/Cube/Stil/P380.gif; Alltheweb was unable to cope with Neutrality at N380.gif and Live Search could neither cope with Relevance at R380.gif nor with Inclusivity at I380.gif. Fortunately, three weeks later the public databases of Yahoo and Alltheweb contained all five TRINP images! But, unfortunately, at that time Live Search could not cope with any TRINP image any more, while Google lost the N380.gif picture as well, that is, in addition to the T380.gif picture, less than 51 hours after the above text saw the light of day.
When this document was published for the first time Google at www.google.com recognized the existence of four out of the five TRINP images. In this it did not differ from Yahoo and Alltheweb at that moment, but unlike Yahoo and Alltheweb, it was the picture at www.trinp.org/Game/Cube/Stil/T380.gif whose existence it did not recognize. To be more precise: it had not been doing this anymore for the last one or two years, in spite of claiming to provide the most comprehensive image search on the web. At the time Google's claim might hold water for all other pictures, it certainly did not hold water for TRINPsite's 380x380 truth image. The following table containing Google's image results for 8 elementary TRINP terms and the combination of truth and relevance should make this clear.
PROMI-
NENCE
TOTAL
RESULTS
RANK-
ING
IMAGE SHOWN
DATE
(YWD)
INCLUSIVENESS
1,181
42,500
36
I380.gif
63092
INCLUSIVITY
1,814
12,700
7
I380.gif
63092
NEUTRALITY
967
296,000
306
N380.gif
63092
NEUTRALNESS
14
286
21
N380.gif
63092
PERSONHOOD
3,238
25,900
8
P380.gif
63092
RELEVANCE
102,286
3,580,000
35
R380.gif
63092
RELEVANCY
1,293
119,000
92
R380.gif
63092
TRUTH
< 29,868
29,300,000
no result < 981
no T380.gif at all
63093
TRUTH +RELEVANCE
49,500
198,000
4
IN150.gif
63092
3,046
198,000
65
R380.gif
no T380.gif at all
63092
The (non)result no T380.gif at all is obtained by adding the term trinp to the elementary term(s) concerned. On 63.09.2 (Metric) or '17 February 2008' (Gregorian) the first part of the collection of 100 images shown when entering the combination of truth and trinp looked as below: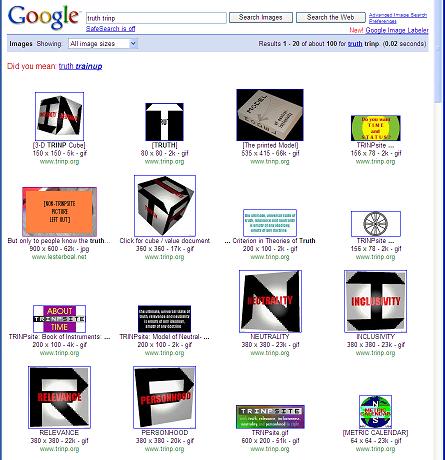 Everywhere the R, I, N and P pictures; nowhere the 380 x 380 T picture, not even when searching for truth trinp
The following table shows the Google image search results for all five TRINP terms, when combined with trinp:
TERM
+trinp
TOTAL
RESULTS
RANK-
ING
380x380 IMAGE
SHOWN
DATE
(YWD)
truth
100

11
12
13
14
no Truth at all
Neutrality
Inclusivity
Relevance
Personhood
63092
relevance
79
1
38
Relevance
Inclusivity
63092
inclusivity
30
1
7
8
9
Inclusivity
Neutrality
Relevance
Personhood
63092
neutrality
25
1
15
16
Neutrality
Relevance
Personhood
63092
personhood
>8
1
7
8
9

Personhood
Neutrality
Inclusivity
Relevance
63092
In the beginning, when Google started with its database of images, the TRINPsite truth image could be found as the second or third truth picture on the WorldWideWeb for months in a row. In this way, Google stood out from all other search engines. Of course, it is perfectly understandable that a picture which first takes the second place, takes the tenth, the one hundredth, the one thousandth, the one millionth or even the ten millionth place not much later. But the Google search engine or the Google company made the above truth image suddenly disappear altogether from its public database, whereas nothing special happened to it on TRINPsite, nothing that distinguished it from the other TRINP value images, whose existence Google had chosen to recognize so far (at least until 51 hours after this page was put on the Web).
Update in week 63.33
Somewhere in week 63.32 or before, 23 weeks or less after this document was created, the 380x380 picture at www.trinp.org/Game/Cube/Stil/T380.gif was 'rediscovered' by Google, that is, put back into its public database. The search phrase truth trinp yielded the following results in the early hours of 63.32.7 (Metric) or '2 August 2008' (Gregorian):
TERM
+trinp
TOTAL
RESULTS
RANK-
ING
380x380 IMAGE
SHOWN
DATE
(YWD)
truth
93
1
5
6
7
Truth
Personhood
Inclusivity
Relevance
63327
Later on the same day, however, the truth picture in position #1 with a link to www.trinp.org had disappeared again. The same picture now appeared in position #13 (out of 90 results) with a link to http://howlinglatina.blogspot.com/[no space]2006_06_01_archive.html. On this page there is a link to the original TRINPsite picture at http://www.trinp.org/Game/Cube/Stil/T380.gif, but TRINPsite itself is not mentioned. Google still recogizes it because trinp is in the address of the picture.
Except that there seems to be little or no explanation for Google's long-term behavior with respect to images, it is odd that the Truth picture is now shown with a black background. The background of the TRINP images is actually tranparent, but in the Valu documents the images are all shown on a white surface. A more serious question is that the original Neutrality picture at www.trinp.org/Game/Cube/Stil/N380.gif is, after 23 weeks, still completely absent from Google's public database. For more information on the fate of this image see the new document called "Why Can't Google Cope with Neutrality?".
Update in week 63.39
When i checked truth trinp on 63.37.4, Google Images showed the Truth picture in position #1, but --o, irony-- it connected to a page (Info/Search/Google/Images/N380.HTM) with the address of the picture in the source code but not the picture itself.
Finally, on 63.39.1 (Metric) or '14 September 2008' (Gregorian), however, the Truth picture is in position #1 and does connect to the right page (Valu/Tru.htm) again after so many months, or rather years. There is still that background which is, unlike that of the other TRINP pictures, black.
Update in week 63.50
After entering truth trinp on 63.50.5 (Metric), that is, '4 December 2008' (Gregorian), Google Images shows the Truth picture still in position #1, but now links it to this document instead of to the value document it is supposed to be linked to (Valu/Tru.htm). Moreover, it still has the black background instead of the white one of the other TRINP pictures shown in the positions #2 to #5 (out of a total of 48 images).
Also for personhood trinp the Truth picture (in position #6) links to the present page. For inclusivity trinp and relevance trinp, however, these images (in the positions #5 and #8 respectively) do indeed connect to the appropriate value documents. But for neutrality trinp the Truth picture is completely absent again. At the same time all three Personhood pictures in the relevance, inclusivity and personhood trinp searches (at the positions #3, #3 and #1 respectively) connect to the present document, where the picture's address may be mentioned, but where it does not appear at all.
Vincent van Mechelen, 63.NLY-SLL